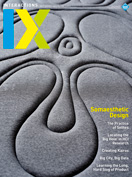 In the current issue of the ACM magazine Interactions you can read a cover story about the Soma Project where one of our colleagues, senior lecturer Martin Jonsson, is a co-writer.
In the article Somaesthetic design the Soma Project is presented like this:
"In the Soma Project, we searched for an alternative design stance that would not distract us from our own experiences but instead deepen our understanding and engagement with ourselves. Through adopting a somaesthetic design stance, we took on the challenge of engaging participants in deepening the experience of their own felt bodily sensations and movements rather than external sensory interactions."
The article Somaesthetic design is written by Kristina Höök, Anna Ståhl, Martin Jonsson, Johanna Mercurio, Anna Karlsson, Eva-Carin Johnson.
You can read the full length article here:
http://interactions.acm.org/archive/view/july-august-2015/somaesthetic-design