Medieteknikens högre seminarium gästas fredagen den 18 februari kl. 13-15 av Mattias Arvola från Södertörns högskola och Linköpings universitet.
Om man vill kan man läsa något inför seminariet rekommenderar Mattias följande texter: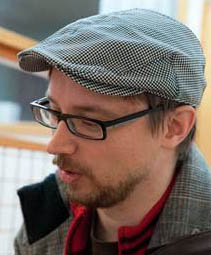 Paper 1: Arvola, M. (2010). Interaction Design Qualities: Theory and Practice. In Proceedings of the 6th Nordic Conference on Human-Computer Interaction (NordiCHI 2010). Reykjavik, Iceland, October 16 – 20, 2010. [ http://www.ida.liu.se/~matar/ixdqualities-nordichi2010.pdf ]
Paper 2: Arvola, M. (2010). Interaction designers' conceptions of  design quality for interactive artifacts. In Proceedings of Design Research Society (DRS) 2010, Montreal, July 7-9 2010. [ http://www.ida.liu.se/~matar/DQ-DRS2010-final.pdf ]
Abstract Paper 1:
This paper reports the results of an action research project investigating the articulation of interaction design qualities for a web portal for urban planning and development. A framework for analyzing interaction design qualities is presented. The framework consists of the practical, the social, the aesthetic, the structural and the ethical quality dimensions, and it was tried out in practice with developers and designers of the portal. This provided experiences used to revise the framework. The results indicate that the framework can be improved by splitting the social quality dimension into a communicational dimension and an organizational dimension. The structural dimension is also renamed to the technical dimension.
Abstract Paper 2:
It is important to be aware of different ways of seeing design quality of interactive artifacts in order to appreciate the various aspects of a design, but how do professional interaction designers understand design quality? In theory, one way of approaching design quality of interactive artifacts has been the Vitruvian principles of commodity, firmness and delight,   originally created for architecture. Such frameworks are, however, seldom directly employed in practice. This paper investigates what conceptions professional interaction designers have of design quality for interactive artifacts. Interviews were conducted with ten designers. The analysis disclosed four conceptions concerning: (a) Constraints & contexts, (b) motivations & purposes, (c) use-qualities of functions & content, and (d) experiential qualities of form & behaviour. An awareness of these conceptions may facilitate the appreciation for different aspects and opportunities in a design situation.
Tid: fredag 4 februari kl. 13-15
Lokal: Apache, MC 442
Hjärtligt välkomna!
[Bild från seminariet den 18 februari. Foto: Mauri Kaipainen]